Electronic Flight Bag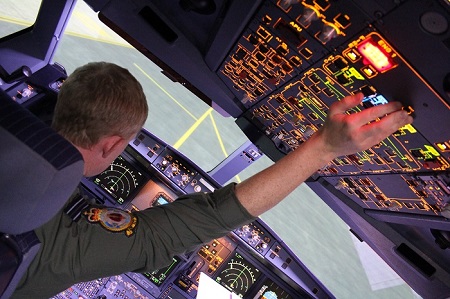 Benefits of the Electronic Flight Bag
By Beckie | 7th May 2019
Bytron Electronic Flight Bag is used by a number of airlines globally but just what are the benefits for airlines using EFBs?
For many pilots, the idea of an Electronic Flight Bag is the stuff that dreams of reducing job-related paperwork are made of but EFBs have evolved over the years since they were first introduced. Whilst removing paper from the process can make a significant impact, airlines now have a vision beyond creating a paperless flight deck.
In this post we explore the Electronic Flight Bag benefits...
The main function of the EFB app is to create a seamless, automated data mangement system that allows flight crews to access all vital information and perform key flight management tasks on a device at the touch of a button.
Watch the EFB in action.
Some common benefits recorded by airlines include; saving hours of working time manually preparing briefing packs, reduction in workload and improved efficiency in the flight deck by reducing or eliminating paper processes, cost savings by reducing the paper and printing cost associated with producing tons of paper manuals per year, reducing weight on each flight and reducing CO2 emissions.
The skybook EFB, as standard, delivers seamless access to class leading intelligent digital crew briefings, the ability to review OFPs in detail, comprehensive journey logging capability covering each flight phase and added flexibility through smart integration with other third party systems giving operators a platform that is configured specifically to individual needs.
The application is intuitive and easy to use offering functionality that makes the most important information available via a single application a format that greatly improves on paper packs and journey log forms.
Here's what you need to know
Unique digital briefings with smart alerting greatly reduces crew briefing times helping to speed up turnaround times by delivering the information that matters most, all via one app
Digital briefings include weather information, company notices, and route plots include detailed ETOPS charts all of which can be refreshed to get updated information as take off time draws closer
Monitoring the performance of each flight is made easier as the journey logging function allows actuals and other important data to be recorded during each flight phase
System integration means that when connected, this data can be transmitted straight back to Ops/Dispatch teams on the ground ensuring the seamless flow of data to and from the flight deck which speeds up reporting times and decision making
skybook EFB is available across Apple, Windows and Android
skybook is developed in-house by our own team of developers making it completely configurable to give access to information of most importance
We developed the solution with input from our clients to create a truly flexible user interface
The skybook EFB is flexible and available as a standalone solution for ease of implementation or as part of a broader skybook package
Engineered to be EASA 20/25 compliant
Here's how the skybook EFB has helped FlyDubai...
FlyDubai streamlined their flight dispatch process by moving to the skybook Electronic Flight Bag and introducing a fully digital crew briefing platform. The result was a more efficient and consistant flight preparation process and more accessible briefing packs.
The results also see FlyDubai making significant savings in other areas including printing costs and paper usage, reduction in weight on each flight which has had a positive impact on carbon footprint.
Want to hold skybook's Electronic Flight Bag in the palm of your hand?
Go back to Electronic Flight Book
-